Lice Combing Kit
Lice Leave™* - Lice & Nit Combing Kit
Plan ahead.  Have a lice comb kit in your home to keep everyone healthy!
Kit includes:
LiceMeister® Comb
Disposable Gloves - 1 pair
White paper towels - starter pack only
Lighted 5x Magnifying glass
Plastic trigger spray bottle
Rat tail comb
Hair clips (2)
*Trash bag and magnifying glass batteries (3AAA) not included.  Item colors will vary.
ORDER NOW.  SUPPLIES ARE LIMITED.
Need only a Lice Comb?
The LiceMeister® comb can be purchased at:
Amazon.com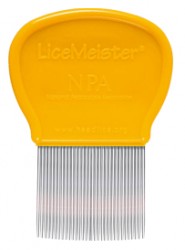 Overnight options may be available.
SchoolHealth.com
To search stores in your area by phone area code: Click Here
Proceeds from the LiceMeister® comb allow the National Pediculosis Association (NPA), a 30 year old nonprofit dedicated to protecting children and their environment from the misuse and abuse of prescription and over-the-counter pesticide treatments for lice and scabies, to be self-sustaining and accomplish its mission. The NPA can be found at www.HeadLice.org for the latest information and studies regarding head lice.
The Nit Free Terminator® comb can be purchased at:
Amazon.com